20 Most Promising Textile & Apparel Technology Solutions Providers - 2020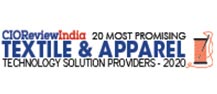 Technology when integrated to the textile and apparel industry, ease up the process of manufacturing, and exporting. Saving cost by saving fabric, and augmenting the production efficiency by some margin, different companies are able to craft technologies, which are user-friendly, implements modern-age technologies like artificial intelligence, cloud computing, analytics and laser printing are optimizing production of textiles and apparel.
According to IBEF report, the domestic textiles and apparel market will continue to grow at 12 percent CAGR and reach US$ 220 billion by 2025. Technologies for yarn spinning and sizing, weaving, knitting, yarn dyeing, fabric dyeing, coating and lamination are augmenting the domestic textiles and apparel market expansion. Material management is another vertical which is making material issue, purchase orders, goods receipt notes, return to seller processes simple. In the sales and distribution segment, inquiry management, sales quotation, order booking, lead time tracking, and warehouse management, have become accurate and hassle-free due to the intervention of ERP-based systems.
In the end, when quality factor is concerned, grading of textiles and apparel is completed through software. With a plethora of textile and apparel manufacturers in India, the rise in the number of technology solution providers is justified. However, selecting a world-class technology solution provider becomes difficult as the margin of ratings is thinner than a needle tip. For helping out to select a proper vendor, CIOReviewIndia presents a list of "20 Most Promising Textile & Apparel Technology Solutions Providers". The listing includes vendors which have rich industry experience, invigorating teams, and most importantly a solid track record. This listing is prepared by consultation of prominent CEOs, CIOs, industry analysts and CIOReviewIndia editorial team, and all have meticulously researched and finalized final 20 vendors who we firmly believe can assist textile and apparel manufacturing industry in delivering cost-effective and optimal solutions that add value to their business.
We present to you CIOTechOutlook 20 Most Promising Textile & Apparel Technology Solutions Providers - 2020.
Top Textile & Apparel Technology Solutions Providers
| | |
| --- | --- |
| Anandi Enterprises | Offers solutions for yarn & fabrics to the domestic and international markets |
| Centric Software | Offers PLM for retail, fashion accessories, fashion software, fashion, footwear, outdoor, product lifecycle management, luxury, and digital transformation |
| eDominer | Pioneer in developing business software, business automation, building application like EXPAND ERP |
| Educe Consulting | Provides e10X-ERP in the SME sector, and helps textile companies in transition of a comprehensive software-based application system |
| Eim Solutions | Provider of SAP All-In-One, SAP Business One, Supply Chain Hub, Smart Factory Solutions, Process Mining, SAP Lumira, and SAP By Design |
| Jaza Software OPC | Provides apparel manufacturing, smart software, and apparel industry apparel Industry digitalization, efficiency improvement, innovation, factory digitalization, process automation, and fabric... |
| JLX Studio | Offers services in design, market intelligence, customer relationship, trend, material, technology, manufacturing processes, and product design strategy |
| Koncepo Scientech International | Offers solutions in strategic advisory, design-build, technical services, industrial cluster & science park development, technical due diligence, and technology transfer |
| Kornit Digital | Provider of printing solutions like direct to garment technology, high definition direct to garment printing technology, direct to fabric, ink and consumables, and pallets |
| Kothari Info-Tech | Provides direct to garment printing and has patented solution automatic white under base generation technology |
| Lectra | Offers fashion PLM, software, CAD/CAM, footwear, furniture, automotive, aerospace, marine & industrial fabrics, textile cutting solutions, leather cutting solutions, lean manufacturing, smart... |
| Onyx Solutions | Delivers technology solutions in fashion and apparel, digital printing, leather CAD/CAM solutions |
| ProSpice Technologies | Delivering topnotch solutions in apparel, textile, automotive, and technical textile industry |
| Qizo | Providing reliable retail and wholesale trading management system for the textile industry |
| Royal Asia Quality Control Services | offers services like fabric inspection, raw material inspection, first article inspection, product monitoring, inline product inspection, during production inspection, final random inspection, and... |
| SPEEDSTEP | Offer services in product life cycle management, product data management, time and action, supply chain management, compliance management, final inspection, and mobile solutions |
| Studio Smriti | Provider of textile design, and services and styling solutions |
| Tekhsol | Offers solutions in Web Based Monitoring System, Weaving, Spinning, Knitting, Warping, Engineering Industries, Software Customization, Live Data Monitoring & Data Logging, Customized Embedded... |
| Zubizi Web Solutions | Provides Web Development, Digital Marketing, Web Application, Web Design, Search Engine Optimization, Social Media Marketing, Custom Web Application |
| Zünd Systemtechnik | Delivers solutions like Digital Flatbed cutter, Workflow Software Solutions, R&D of Digital Cutting Technologies, Zünd Cut Center Software, Zünd Design Center Software, Sign & Graphics, and... |